Sorry, I can't do 2 x 14 hour flights without mentioning them...
<--break-->
My mate and I took two 14 hour flights from London Heathrow to Rio de Janeiro (via Sao Paulo), and did them both with just 4.5 days between them. We booked them via phone to the Executive Club (we've both been dropped down to blue card members). We paid for the flights with BA Miles (the not-as-good-as-real-Air-Miles miles). Because we wern't paying we got premium economy (or "world traveller plus" as BA call it).
First up, everything was "e-ticket" based. We turned up at the airport, and duely tried to use a checkin machine, to which both of us got a "booking not completed, go to ticket sales" message. All of a sudden, a helpful chappy appeared, who had some sort of terminal with which he managed to get one of us checked in. I ended up at ticket sales, and then had to check in. Wisely, my buddy insisted we got an e-ticket receipt - absolutely obligatory when getting through immigration in Brazil. Anyway, much messing about, all easily avoided by a paper ticket. Our conclusion was that e-tickets are great inside Europe, for quick hops between places, but outside the continent, things get messy, so paper tickets are better.
Anyway, World Traveller Plus is actually really good. The seats are big, comfy and well spaced (on the 777, it's 2-4-2, rather than 3-3-3 as per regular economy). You're also in your own curtained off area, so you can enjoy any dilusions of superiority you may have.
That said, my buddy had an issue with the service on the way home. The issue arose when he asked if he could read a copy of "business life", which is supposed to be "business class only". The hostie's first response was to say "sorry, business class only". Personally, I don't think this is a huge deal. However, I can see the problem here. You're being reminded that "you should have bought business class", as opposed to being made to feel special for having a lowly economy (or premium economy) seat. So, I guess the best customer service would have said "hmm, I'm not sure, it's normally for business class, but I'll see what I can do" (then check, if there are any spare copies, let him borrow a copy, or otherwise just come back and say "sorry, business class is full, so all the copies are in use"). As I say, probably a small point, but in airline jeopardy (such as BA are in), could be important. BA is of course slow to change, and have typically not been too great at these details.
Anyway, the other thing I discovered was completely by accident. A while back, I was hopping between London and Glasgow very frequently. I was travelling with a celiac, who BA did not cater for at all - they just kept handing out gluten-loaded sandwiches, which would cause him serious grief if he ate them. All this despite being a silver or gold Executive Club member, and having "gluten free meal" on his profile (and despite travelling in Business Class most of the time). Not good. Anyway, in an act of "solidarity protest", I selected "gluten free meal" on my profile as well.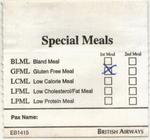 So, here I am, sometime later, and I get a gluten free meal. This is great - it's a far healthier meal than the standard ones, and you get your meal first. For example, I got an organic yoghurt, where as everyone else got Muller Lite (which is full of bad things). That said, the celiacs amongst us can't drop their guard - on the return flight, I'm pretty sure the bread roll wasn't gluten free bread. I guess they're not completely sure what you can eat, so you sometimes don't get nice salad dressing, or what ever, and you certainly don't get a full English breakfast (!).
I am slightly concerned that you can get a "bland meal". I mean, I know we're Brits, and we're well known for liking bland food, but I didn't imagine there'd actually be a category for it.
So, my advice - get premium economy if you can, and get a gluten free meal. Better still, don't fly - it's far too surreal.