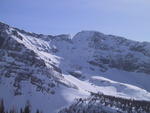 Delerium DiveHaving spent a day with some crazy snowboarders (and some crazy Danes), I've now skied every run on the trail map (and a couple besides) at Sunshine, except one. It's double black diamond, requires that you carry an avalanche beeper, probe and shovel, and have a buddy with the same.
<--break-->
The Goats Eye hike is pretty insane - it's up, up, and more up, followed by down, up, down and more up. It nearly killed me, and I'm probably the most (altitude) fit I've ever been in my life.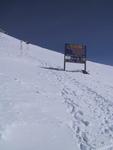 Goats Eye Sign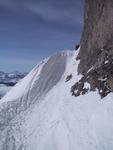 Goats Eye Path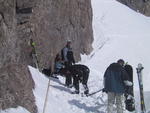 Top of Goats Eye: Sign
First you go past the sign and up the path...
Then, you go down...
And finally you arrive. You can see the crazy snowboarders (all from the UK, I might add) and also a couple of crazy Danes. The view from there is spectacular, and we had great weather for it. The ski down wasn't life changing, but it was good - it'd be really excellent with new snow. There was no new snow, but still plenty of powder to play in. It's a really long run too, although much of it not at much gradient.