I (finally) got my arse into gear and got to Kicking Horse. It's a fantastic mountain, and incredibly big (although doesn't look it on the trail map). It's got the highest vertical drop anywhere, and has a single green run than is 10km long (and quite boring). There's bumps (moguls, to Europeans) all over the place, and some extremely extreme skiing, if you're that way inclined. Awesome. (now with pictures)
<--break-->
Incidentally, if you're in Banff and want to go to Kicking Horse (which I'd recommend you do), then go to Rude Girls (opposite Coyotes) and go to Adventures Unlimited. If you're "local" (like me!) then you get it for $60 (otherwise $75) - that's return bus and a day lift pass. Incredibly cheap.
The mountain is huge, it has three skiable bowls, Bowl Over, Crystal and Fuez (which is newly opened). There's also Super Bowl, but you have a pretty hefty hike to get there, and it's outside the ski area.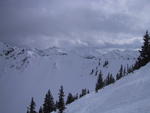 Bowlover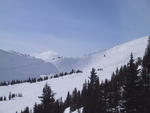 Crystal Bowl
Fuez Bowl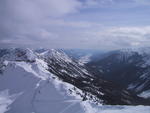 Eagles Eye
The Crystal Bowl was the first I skied - take the gondola to the Eagles Eye Restaurant (which you can see on the left) and then find your way down, and then up the lift. There's a fairly gnarly track, but once you get down it, you get to see the bowl (above) which is huge. Again, if you fancy a hike, there's all sorts of rewards for doing so. The route back to the gondola is incredibly long:
The track along CPR ridge (the pic on the left) is pretty mental. It's the start of the only green on the mountain. Those little vertical drops on the right have ski tracks all over them. Some people are clearly insane. Mind you, there are some much more mental looking slopes that have tracks all over them, so I guess this is pretty tame.
It's not an easy mountain. Blue upwards, and moguls all over the place. That said, it's awsome, you have to go.