Went to Castle Mountain yesterday with the Unlimited/Mountain Park Adventures lot. They charged $45 for the trip, and the lift ticket was another $45 for the day. I had an excellent time, and the mountain is cool too.
<--break-->
Mountain Park Adventures is a little bus/van company serving all the cheap bits of Banff and going (mainly) to Sunshine (but also Lake Louise and Norquay). They pick up from all sorts of places, not least the Y, and go direct in vans. That's way better than the corporate version which is operated by Brewster - they pick up at the Y too, but then you have to switch busses, usually outside the Brewster terminal. Whilst the drivers are really helpful, it adds time and it's a bit of a shlep.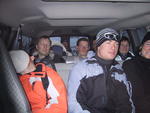 SleepySo anyway, MPA decided to do a day trip to Castle Mountain. We had to be at the pick up at 6am, so it was a pretty early start, but most people got a bit of a doze in the van on the way over. Meanwhile, Steph drove whilst Keighley did something of a job of navigating. They switched on the way home, so unfortunately Keighley couldn't drink until we got back to Banff.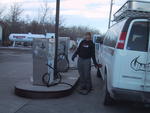 Gas Station Stop
Driving to Castle Mountain is kind of good. You have to go through all sorts of hick towns, and past the hick store. It's a weird place, but good for a quick stop. Here's Keighley getting "some gas" on the way home. Also, there's the hick shop (store?), their sign and the hick dog. Oh, and the hick toilet (which needless to say, the girls refused to use).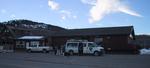 Hick Shop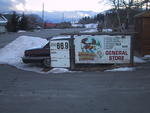 Hick Shop Sign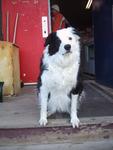 Hick Dog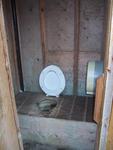 Hick Toilet
As you tend to find on these sorts of things, everyone's really nice. Maria and Martin (sp?), the two Danes taught me some rude expressions, which they seemed to find incredibly funny, and I thought sounded a bit like a little song. Are are Danes crazy? Seems like it to me.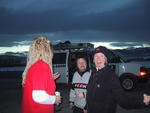 Mad Women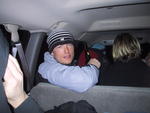 Martin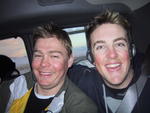 Van Guys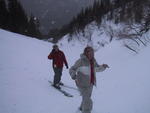 The Creek
Castle Mountain itself if really cool. It's small (only a handful of lifts) but there's some lovely snow, and some incredibly steep slopes. I think most people fell at some point during the day, not least Steph, who somehow seemed to do it in incredible style, mostly sliding half way down the mountain and leaving skis and poles all over the place. She caught some air on her arse in the creek. She wasn't too happy, but we all thought it was great.
We got back to Banff pretty late, and headed to Melissas - man I got so drunk to quickly. I think possibly not enough food had something to do with it ;-)