Hot Tub Ranking (UK channel Five) is quite possibly the best post-pub lads TV since Banzai.
Despite the complete lack of a hot tub, it's great. Five (fit) women get rated on faces, bum, boobs and overall by three blokes. After that's all done, the girls get a go at ranking the blokes. It's not exactly intellectual, it'll probably get dumped after the first series, but hey, it's worthy TV after few beers and a kebab (ie. while you're at your best). I did feel a bit sorry for the girl who constantly got rated 5th by the girls - and the girl who'd had her whole body surgeon-adjusted had her head up her arse. Still, the right girl won in the end. I was suprised by the girls choice of the chaps though. This cat might be in with a chance after all ;-)
The show's hostess, Mia, does a good job of talking slowly and clearly and using every opportunity to say "ranking" or "ranker". However, just in case you're having trouble deciphering which is the face, the boobs and the bum, here's a Cut'n'Keep Coofer Cat Guide to Female Body Parts to help you:
Coofer Cat's Cut'n'Keep Guide to Female Body Parts
Face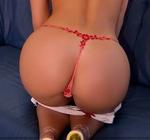 Bum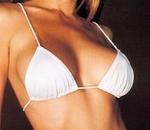 Boobs
For those of you watching on the 14th October and you fancy doing a bit more "ranking", here are the contestants:





Update 21st October: Oh the how the tables have turned - apparently this evening the girls got a go at ranking the chaps. Oh, and my server went into meltdown shortly after the show (this is really popular!). Hopefully that's resolved now so it shouldn't happen again. Sorry for those who missed out.
Update 9th January, 2006: I emailed Five to ask if there were plans for a second series, a repeat or indeed a website. Here's what they said:
At this time Five has not commissioned a second series, however, we have logged your comments in our Viewer Enquiries Report for the attention of all in Five.
We have the rights to repeat this programme but no dates are scheduled at this time. We can only recommend keeping an eye on the listings magazines or contacting us again at a later date when more information may be available..
We do not operate a separate section of our website for each and every thing that we broadcast.Often due to copyright restrictions, there are limited time and resources available to us.