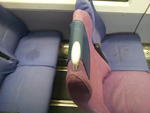 Mystery StainsThe Heathrow Express - is it Britain's most expensive railway?
A bit of Google Maps hacking shows the distance between Paddington Station and Heathrow T1,2,3 to be 12.2 miles (as the crow files). The currently published fare for the HEX is £20, making it £1.64 per mile (or £1.39 if you take a return at £34). That's a lot more than the BBC found it to be a year ago.
All that money, and you still have to sit on manky seats that have 'mystery stains'. Heathrow's current ad campaign says "let's build on strength" - yeah right.