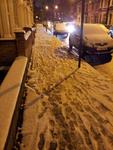 Before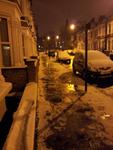 AfterWho are these mysterious people? They work in the shadows of Brixton and Lambeth, braving the harsh weather and they clear snow so that it's safe for us all to walk the streets once again.
Goodness me, doesn't this street look a lot better when the snow is cleared on one side? Ooh, and nicely gritted to avoid refreezing too. Now that's classy ;-)
That said, nature seems to be doing at least as well right now, although more snow is forecast tonight, so perhaps our high-viz-wearing mystery volunteering hero will be out again tomorrow...?