A friend of mine challenged me to eat two Subway footlong sandwiches. Seeing as I was absolutely ravenous, I thought I'd give it a go.
Side note: Subway Leicester Square refused to serve a woman a Kids Sub, because she wasn't a child. Ilater asked, if I told him I had a kid waiting outside, would he serve me? He said he would (and that he'd check the policy). What on earth...?
Anyway, I bought a footlong Steak and Cheese, on Italian, and a footlong Subway Club (because I'm watching the calories), also on Italian. I had both with "cheese on one side", toasted, with lettuce, cucumber and tomatoes and light mayonnaise.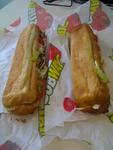 The two subs waiting to be eaten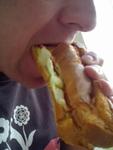 Me, tucking into the Steak and Cheese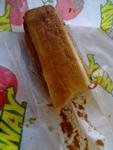 Half gone already - that was easy!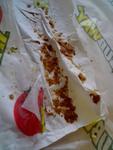 ..and it's all gone.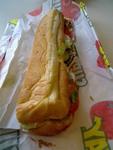 Here's the Subway Club. Come to pappa...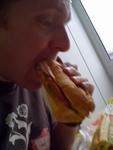 Mmmm, tasty Club...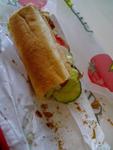 Just a little left to go... (feeling pretty full now though)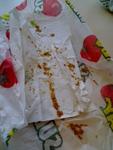 ...and it's all gone. Phew. quite a bit of work! I need some sleep...