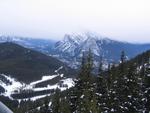 Since I'd caned it so much for the last couple of days, I decided to have a 'cruisy' day at Norquay today. The bus to Norquay goes at about 9am or 11.30 - not a great choice, but since I was slacking off, 11.30 was just fine.
I've actually had a very suprising day. Norquay's generally derided as having rubbish snow and boring terrain. Actually, Norquay's got some good terrain, although it's true a lot of their snow gets hard packed and is difficult to ski on. It's also true that because they have to groom everything all the time, the slopes get a bit homogonised.
However, Norquay's a great place for the intermediate skier (beginners: I'd suggest Lake Louise, although they do have some fairly good places to learn at Norquay). For the intermediate skier, hard pack forces good carving technique, as that's the only way to get an edge. Also, a good deal of the bumpy terrain in Norquay is good for learning how to do bumps. Whilst they do get a bit hard from time to time, a lot of them aren't on very steep gradients, so quite a good place to try out a few moves. There's no danger of getting cut-up by some lice infested snowboarder either, because they're all at one of the other mountains.
For the more advanced skier, well, here's where Norquay suprised me the most. The two person Norquay Lift services nothing but advanced terrain. The marked runs are a bit boring, but get over to the edge of the ski area, and even two days after snow, I found some fresh powder (not much of course, but it was there!). The views over the valley and Banff are incredible and there's some excellent terrain and long runs (not overly steep, but quite technical).
Norquay's apparently under new management. There's some concern that they won't be able to make the money they need in Summer to stay open in Winter. I don't know about that, but Norquay seems to want to attract the locals and their families and build something of a community hill. This strikes me as a great idea - my experience today was the least commercialised, least pressured I've had in a while. There are no queues at Sunshine because they're very good at herding people. There are no queues at Norquay because there are no people! That said, almost all that I spoke to were Canadian, which makes a change from meeting yet more tourists like myself!
Norquay also seems to have the best food of any mountain in Banff. That's not saying a lot, as Sunshine and Louise thrive on tasteless burgers/hot dogs and badly cooked fries/chips. Norquay on the other hand has quite possibly the nicest lodge of the lot, and serves alternatives such as pasta, lasagne, pizza and a few other things. You can also get a good smoothie or coffee in the cafe upstairs. Whilst all this might be available in the restaurants elsewhere, it's all in the 'cafeteria' style bit of the lodge at Norquay.
Norquay's first lift is just 15-20 minutes out of Banff. If you fancy a day with a slightly slower pace of life, a bit more community and less commercialism, give it a try.
(There'd be more photos, but after Spring style skiing in the morning, it started to snow in the afternoon so the light wasn't very good!).