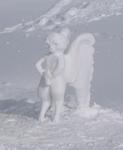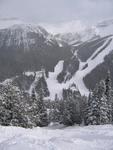 I haven't been very prolific with my camera since I've been in Canada. Mostly the weather's not really been that bright, or I haven't had my camera on me (typical!).
Anyway, here's a nice one of an angel, carved by a liftie at the top of the Angel Express in Sunshine Village. There's also this other one looking down one of the "legendary steeps" at Lake Louise. On this occasion, the Fall Line Chutes, like the rest of Louise were covered in about 17cm of fresh snow. The picture doesn't show how steep it really is, but if you look carefully, you can see the Temple Lodge at the bottom of the valley.
I've decided that there are already plenty of pictures around Banff town. Instead, I'm going to do a series of pictures of "back street Banff", taking in the glorious sites of every back street, back alley and service entrance I can find. More on that in a bit though...