Archive
March 25th, 2013
Submitted by coofercat on Mon, 2013-03-25 22:44
We went to see The Book of Mormon the other day. Apart from some colourful language, some sexual imagery, a good dose of blasphemy, it's not nearly as offensive as I was lead to believe. And actually, the Mormons came off quite well, all said and done (draw your own conclusions about religion in general, mind you). There are some really good songs and gags, good music and production. We had a good time - I'd recommend it.
March 23rd
Submitted by coofercat on Sat, 2013-03-23 09:08
Mystery StainsThe Heathrow Express - is it Britain's most expensive railway?
A bit of Google Maps hacking shows the distance between Paddington Station and Heathrow T1,2,3 to be 12.2 miles (as the crow files). The currently published fare for the HEX is £20, making it £1.64 per mile (or £1.39 if you take a return at £34). That's a lot more than the BBC found it to be a year ago.
All that money, and you still have to sit on manky seats that have 'mystery stains'. Heathrow's current ad campaign says "let's build on strength" - yeah right.
March 16th
Submitted by coofercat on Sat, 2013-03-16 21:30
Thames Water - good grief they're useless. For reasons too tedious to go into, I have to get our water tested for lead content - "This can be performed by your local water company".
First of all, 'googling' for such a service doesn't really come up with anything definite. Trying to navigate the Thames Water website doesn't turn up much either, so I phoned them. After getting through three or four levels of robo-phone-agent, I spoke to someone who was actually very helpful. He told me he'd put me down for a callback, which could happen any time in the next five days.
I got my callback - it was a voicemail left on my phone. The caller didn't leave his name, or any way to contact him back. However, he told me to visit a particular web page and download the "lead pack". He went on to say that the application would proceed two weeks after they'd received the completed application (two weeks!?).
The pack contains some information and a one-page application form. You have to post it back to them (no email or fax - just snail mail). The application form contains very little information - just your name, address, account number and a couple of "tick boxes" for things about your water supply. I can't imagine why they can't just take this information over the phone (unnecessary job creation, perhaps?).
I tried calling them today (about 5 days after posting the form to them) to ask if they'd received it and that the application was proceeding. They couldn't tell me if they'd received the form, or indeed anything about my application. I was assured though that "they'll call you back before the two weeks". I told them I was worried because I didn't want to wait two weeks to be told that the application hadn't been received, but even this doesn't cut any mustard. All I got back was some "I'm sure everything will be fine" - but still nothing tangible.
Hey Thames Water - the 80s called looking for a self-serving, wasteful monopoly.
Update 28th March: As expected, sending forms in didn't work out as TW "were sure" it would. I sent in two applications, they managed to lose mine and then got confused by the one I sent in for my neighbour. They managed to scan in the cover letter which explained all of this, but still managed to do precisely nothing about anything. I did get a direct number for TW's Lead Team: 0845 366 2963
After explaining why this upset me so much, they have now managed to book an actual test next Wednesday. It then takes 7-10 working days to get a result back from the lab. That means a lead test takes a minimum of 5 weeks from first talking to them to getting a result from them - a least half that time is entirely wasted by them though. Great service, eh?
January 19th
Submitted by coofercat on Sat, 2013-01-19 15:35
Before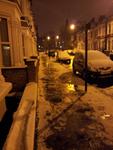 AfterWho are these mysterious people? They work in the shadows of Brixton and Lambeth, braving the harsh weather and they clear snow so that it's safe for us all to walk the streets once again.
Goodness me, doesn't this street look a lot better when the snow is cleared on one side? Ooh, and nicely gritted to avoid refreezing too. Now that's classy ;-)
That said, nature seems to be doing at least as well right now, although more snow is forecast tonight, so perhaps our high-viz-wearing mystery volunteering hero will be out again tomorrow...?
January 15th
Submitted by coofercat on Tue, 2013-01-15 08:26
It's true... HMV have gone into administration.
HMV were idiots - for probably the last 15 years they've been complete idiots. The CEO, Simon whatshisface thought he understood "the music industry", but he only understood the industry from maybe the 1980s, and he definitely didn't understand what people actually want. As a cow-orker just said to me, "it's amazing these companies don't evolve".
It might have got what it deserved, but having spent many a happy hour of my teens and early 20s in HMV stores, my nostalgia gland is still sad they're gone.
January 5th
Submitted by coofercat on Sat, 2013-01-05 19:14
Get it while it's hot - Flat for sale in Morval Road, Brixton, London SW2.
There's a by-appointment 'open house' on the 13th January. I reckon you need to move fast if you want to get in on this particular bit of action ;-)
Update 15/1/13: We're under offer, so I'm afraid you've missed out.
December 22nd, 2012
Submitted by coofercat on Sat, 2012-12-22 18:15
Coofer Cat's just moved to a Virtual Private Server (VPS). Let me know if anything looks wrong...? It should be going a bit quicker than it used to, and it should be freeing up my broadband at home too :-)
December 13th
Submitted by coofercat on Thu, 2012-12-13 11:13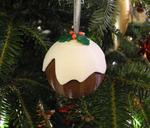 3D Pud Pud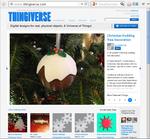 ThingiverseOn request of a friend, I made a Christmas pudding tree decoration on my 3D printer. It's taken me hours to get it all right, and takes a few hours to print too. Also, its popularity has meant I've had to make a dozen of them. Still, it's kept me out of trouble for a couple of weeks!
Update 16/12/12: I just received an email saying that this got featured on the Thingiverse home page! Wow - high praise indeed!
December 7th
Submitted by coofercat on Fri, 2012-12-07 09:05
Oh my word, the Cat's getting *spammed*. Traffic volumes are more than double the "normal" levels (which were quite spammy already), and Mollom's working double-time to prevent all the comment spam getting onto the site.
I've already got various 'blocking' things running to deny access to people who abuse this poor little Cat. I realised that it wasn't banning people who frequently trip Mollom though, so fixed that, and now we're banning someone from the site every half an hour or so (sorry if that's you, by the way, but it probably means you've got some nasties running on your PC).
Incidentally, looking at the actual IPs hitting up the Cat has been interesting. There are the usual random-around-the-world visitors, but recently a clearly obvious 'glut' of Chinese based IPs too. It sort of feels like every computer in China is trying to give me comment spam at the moment. I'm sure it's not quite that bad, but it's a recent, unwelcome, development nonetheless.
November 10th
Submitted by coofercat on Sat, 2012-11-10 20:33
The Pirate Party in Manchester are doing a lot of campaigning at the moment for the by-election. They've got a credible candidate, and could actually take office, if elected.
All I can say is, if you think that the 'main' parties are either all the same, or maybe that they're a waste of space, then check out the Pirate Party. You may not agree with everything they stand for, but you can be sure they're actually going to try to do good things for you. I'm looking forward to a PP candidate in my area.