Archive
January 5th
Submitted by coofercat on Sat, 2013-01-05 19:14
Get it while it's hot - Flat for sale in Morval Road, Brixton, London SW2.
There's a by-appointment 'open house' on the 13th January. I reckon you need to move fast if you want to get in on this particular bit of action ;-)
Update 15/1/13: We're under offer, so I'm afraid you've missed out.
December 22nd, 2012
Submitted by coofercat on Sat, 2012-12-22 18:15
Coofer Cat's just moved to a Virtual Private Server (VPS). Let me know if anything looks wrong...? It should be going a bit quicker than it used to, and it should be freeing up my broadband at home too :-)
December 13th
Submitted by coofercat on Thu, 2012-12-13 11:13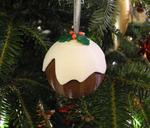 3D Pud Pud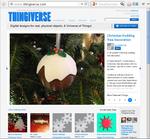 ThingiverseOn request of a friend, I made a Christmas pudding tree decoration on my 3D printer. It's taken me hours to get it all right, and takes a few hours to print too. Also, its popularity has meant I've had to make a dozen of them. Still, it's kept me out of trouble for a couple of weeks!
Update 16/12/12: I just received an email saying that this got featured on the Thingiverse home page! Wow - high praise indeed!
December 7th
Submitted by coofercat on Fri, 2012-12-07 09:05
Oh my word, the Cat's getting *spammed*. Traffic volumes are more than double the "normal" levels (which were quite spammy already), and Mollom's working double-time to prevent all the comment spam getting onto the site.
I've already got various 'blocking' things running to deny access to people who abuse this poor little Cat. I realised that it wasn't banning people who frequently trip Mollom though, so fixed that, and now we're banning someone from the site every half an hour or so (sorry if that's you, by the way, but it probably means you've got some nasties running on your PC).
Incidentally, looking at the actual IPs hitting up the Cat has been interesting. There are the usual random-around-the-world visitors, but recently a clearly obvious 'glut' of Chinese based IPs too. It sort of feels like every computer in China is trying to give me comment spam at the moment. I'm sure it's not quite that bad, but it's a recent, unwelcome, development nonetheless.
November 10th
Submitted by coofercat on Sat, 2012-11-10 20:33
The Pirate Party in Manchester are doing a lot of campaigning at the moment for the by-election. They've got a credible candidate, and could actually take office, if elected.
All I can say is, if you think that the 'main' parties are either all the same, or maybe that they're a waste of space, then check out the Pirate Party. You may not agree with everything they stand for, but you can be sure they're actually going to try to do good things for you. I'm looking forward to a PP candidate in my area.
September 6th
Submitted by coofercat on Thu, 2012-09-06 19:04
My Samsung Galaxy S2's wifi has packed up. It won't turn on (the wifi icon is half green/grey, and never goes green). It's not a network problem, as it does it anywhere (and besides, it's not getting as far as switching on, so it doesn't know what networks there are).
I've done a lot of searching for answers - the best I found was to try this:
- Switch off, take the battery out for a few minutes, restart
- Upgrade to latest software (which unfortuntely means ensuring the shockingly poor quality of Samsung software which you'll have to install on a PC)
- Backup your phone (if Kies will let you) and do a factory reset
- Phone Samsung support and get them to fix it
I've got as far as the last step. They're going to send me a pre-paid envelope that I have to send my phone back in. It takes 7-10 days, and hopefully I should receive a working phone afterwards.
I should point out that this took three calls to Samsung to arrange. In all three, the agents were actually very friendly and helpful, except that I got two different answers, so kept going until I got a consensus. Hopefully the envelope to/fro thing will work out. Seemingly other Internet citizens have had a reasonable experience of it, so hopefully my phone will be back to full working order soon (meanwhile my Three data plan will take a beating, as will my very old Motorola K1 while the Galaxy is on it's road trip).
May 18th
Submitted by coofercat on Fri, 2012-05-18 14:11
Mrs Cat and I just got back from holiday in South America. We've been to Rio de Janeiro, Iguassu Falls, Mendoza, Santiago, Rapa Nui (Easter Island), Buenos Aires and São Paulo. It's been awesome, and I'd thoroughly recommend it to anyone.
Ahu TongarikiOf all of those places, for me, the most moving was Rapa Nui. It's a tiny island with a long and turbulent history. The original Polynesian decendent inhabitants were master stone workers and built incredible monuments to their ancestors (which they ended up destroying later on). For me, the weirdest and most humbling place on the island is Rano Raraku - the quarry where the moai were made. Here there are dozens of still-standing moai, mostly partially buried. Apart from the onset of grass (and a tourist trail), it feels a lot like it's just a day off and that the workers will be back tomorrow to carry on carving.
Honestly, as the cliché goes, pictures don't do it justice. It's a hard place to get to, and expensive when you get there, but if you ever get a chance, it's a place well worth a visit.
March 12th
Submitted by coofercat on Mon, 2012-03-12 08:45
I weigh 45 chickens, but I need to lose at least 2227 sheets of paper to get to a far healthier 1.6 Jennifer Anistons.
Don't get me started on the length measurements ;-)
Weird Converter (via El-Reg).
March 10th
Submitted by coofercat on Sat, 2012-03-10 19:17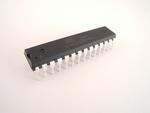 Chippy ChappyI've been playing around with my camera, for which I just bought a remote control and EyeFi SD card. First of all, the camera... I'm not much of a photographer - I like the idea of it (and have lots of accomplished photographers in my family), and I like technology, and I understand what F-stops do, but I'm terrible at actually taking pictures. As a result, I was advised to get a compact camera, and not a DSLR because although lots of DSLRs have got full-auto modes, they can be too fiddly to take snaps with. Some compact cameras have manual modes, but do a lot to help you take ordinary pictures. All this made sense to me, so I bought a Nikon Coolpix P7100. I really like it - the few out-and-about snaps I've taken are easy to do, and come out much better than I'd manage with our snap-happy camera (or indeed with the various phones I've owned). If you're after a decent camera and don't want hassle, this seems like a good one (and not too expensive these days either).
I've been pushing my knowledge, my camera and my dining room table a bit though. I bought a "lighting tent", which came with a couple of cheapo lights and a very crappy tripod. It took a bit of getting used to, but I was getting quite good results with my Nokia N900 phone. I'd definitely reached the limits of that, so bought the Nikon and have been learning ever since.
Doing close-up work really needs a tripod, and if you need a tripod, you need a remote control (shutter cable, for the old-skool). I bought a "shoot" branded one for my Nikon, which cost about two quid, and does what you need - it makes the camera take a picture without actually having to touch the camera.
The EyeFi SD card was a bit of rampant consumerism on my part - although it actually makes life a hell of a lot easier. It's basically a normal SD memory card, except it's got wifi built into it(!). You just snap away, your camera saves things to the SD card which in turn magically sends them to your computer. That means you can take a picture and then examine it on the computer - all without touching the camera. Very handy indeed.
I'm quite pleased with the results of all this (the picture above is straight off the camera - no photoshopping or colour adjustment at all), although it takes me ages to get anything done. Practice needed, I think ;-)
February 23rd
Submitted by coofercat on Thu, 2012-02-23 21:05
My electricity supplier sent me a link to this video:
I can't recommend getting away from the "nation's leading" and "most trusted" suppliers enough. Who you pick is up to you, although I have to say these guys are good.